As a Las Vegas artist and storyteller, Madeira Desouza has gained a reputation for his unique and captivating creative works. This website explores his gay artistic works, his usage of full frontal male nudity, uncensored naked men pictures he produces, the community of 3D artists to which he belongs, the traditions and practices of digital 3D art, along with the development and creation of 3D male characters and male 3D digital models.
The art and narratives of Madeira Desouza of Las Vegas offer an immersive experience that transports viewers and readers to other worlds, where they can explore unique perspectives, stories, and characters. An accurate description of this kind of creativity is gay male underground art and stories. At this website you can jump into the artistry and storytelling of Madeira Desouza and explore what makes his work stand out today as it has since he first emerged on the scene in 2007. Discover where Madeira Desouza gets the inspiration for his creative works.
The Art of Storytelling
What sets Madeira Desouza apart from other artists is his combination of skills and talents which he has developed over nearly two decades by weaving compelling narratives through his artwork.

His storytelling skills are a result of many continuous years of practice and his deep passion for creating stories that leave a lasting impact on his audience. Each of his 3D digital art images tells a story. But more than that, Madeira Desouza's visual works invite viewers to explore the characters and settings that he creates, immersing them in a world full of wonder, danger, and intrigue.
Madeira Desouza emerged using his unique way of blending fantasy and reality in his artwork. He draws inspiration from different sources including mythology, history, and science fiction, to create a unique world that captures the imagination of his audience. His use of color, texture, and contrasted lighting adds to the overall experience, making his artwork come alive in a way that few can match.
The Power of Imagination
Another aspect that sets Madeira Desouza apart is his ability to stimulate the imagination of his viewers and readers. The meanings of his artwork is wide open to interpretation, allowing viewers to bring their own experiences, emotions, and perspectives to the table. This makes each experience unique, as each viewer brings something different to the table.
Madeira Desouza's artwork invites the viewer to explore worlds that are beyond the ordinary. His use of symbolism, metaphor, and allegory adds layers of meaning and depth to his work, encouraging the viewer to look closer and delve deeper into the story. This opens up a world of possibilities, as the viewer can create their own narratives, characters, and settings based on their interpretation of the artwork.
The Legacy of Madeira Desouza
Madeira Desouza's work already has left a lasting impact on the art world, inspiring others to explore new possibilities and push the boundaries of what's possible.
His legacy is a testament to the power of storytelling and imagination, showing us that art can be so much more than just a captivating picture.

His work will continue to engage audiences for years to come, inspiring new generations of artists to explore the power of storytelling in their own creative works.
Madeira Desouza Custom Creations
He is one of those rare artists and storytellers who offers the opportunity to get custom creations that are sure to thrill and delight you.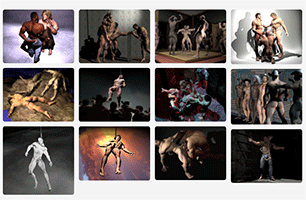 What this means is you can order customized images created just for you by Madeira Desouza, himself, that will bring your once-private thoughts and your most secret desires out into the real world we all live in. You get to deal directly one-to-one with Madeira Desouza to make your custom creations come true for you starting with source photographs of men's faces that you provide.
Get started now to have your custom creation made for you to enjoy
.
The Full Madeira Desouza Collection
Digital downloads
of the complete works of Madeira Desouza are instantly available to you right now. If you are a serious collector of Madeira Desouza art and stories, you will be delighted by this
huge collection of over 80 digital downloads
at your fingertips.